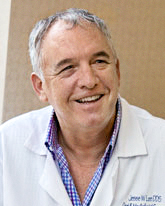 Born in North Carolina, Dr. Jesse W. Lee grew up in Cliffside Park, New Jersey. He earned his bachelor's degree of science from the University of San Diego and his D.D.S. from Georgetown University. Dr. Lee has more than 30 years practicing dentistry and oral surgery privately and in the U.S. Navy. His longtime military career has taken him throughout the world where he honed his skills not only in dentistry and oral surgery but also in training dental residents. A decorated officer, Dr. Lee has frequently held positions as the head of oral surgery for the U.S. Navy. He also served as the regional dental officer for Navy Medicine East, overseeing dental operations for the east coast and Europe.
Today, he and his wife, Beth Jaklic, a retired U.S. Navy captain, reside in Virginia Beach where they are raising their two children. Dr. Lee wanted to join Dental Specialty Centers of Virginia because he enjoys helping people and working as a team.
Dr. Lee is certified by both the American Board of Oral and Maxillofacial Surgery and the American Dental Board of Anesthesiology. He serves on the board of directors of Access Partners (non-profit providing medical services to the underprivileged) and the ODU School of Dental Hygiene. Other professional affiliations include:
American Association of Oral Surgeons
Virginia Society of Oral Surgeons
Staff surgeon, Chesapeake Regional Medical Center
Fellow American Association of Oral & Facial Surgery
Fellow American Dental Society of Anesthesia
His Oral Surgery expertise includes single and multi-tooth extractions, wisdom teeth removal, bone grafting, implant placement and oral pathology.
In his free time, he volunteers at the Hampton Roads Dental Center. In his spare time Dr. Lee enjoys fishing, golf and spending time with his family.